What To Do When You Are in A Rear End Collission
Compassionate, Experienced & Highly Rated
"… I have met with attorneys who have wanted to "take control" of the conversation every time we talk. Laura is not one of these. She listens attentively, makes sure she understands all aspects of the situation, and then uses her vast knowledge of injury law to help out. I would be confident sending any friends or family to her for legal advice and help. …"



Avvo review by Greg
What To Do When You Are in A Rear End Collission in Henderson
Note: Get instant webcam footage of local traffic conditions throughout the Las Vegas valley at sigalert.com.
---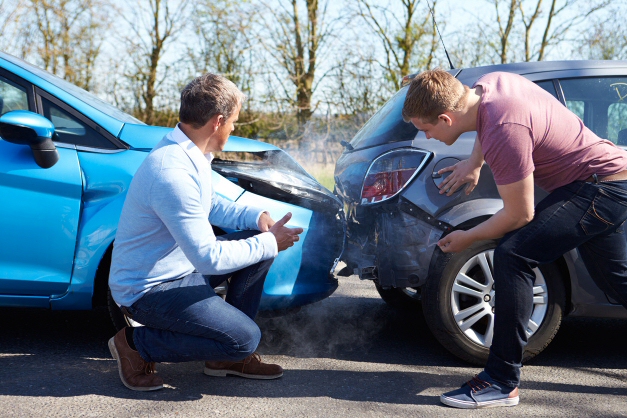 Rear-Ended in Henderson? Get the Compensation You Deserve with Henderson Personal Injury Attorney Laura Payne, Esq!
If you've been in a car accident in Henderson, Nevada, you know how devastating the injuries can be. Rear-end collisions are one of the most common types of car accidents, but the physical and emotional damage that can come from them can be extreme. Fortunately, you don't have to go through this alone. The personal injury attorneys at TheOneLawyer.com can help you get the compensation you deserve for your injuries. In this blog post, we'll discuss what you need to do when you have been the victim of a rear-end automobile collision. The National Transportation Safety Board (NTSB) reported that rear-end collisions accounted for almost half of all two-vehicle collisions between 2012 and 2014.
See: https://www.ntsb.gov/Advocacy/safety-alerts/Documents/SA-046.pdf
Since rear-end collisions occur with a high rate of frequency, it's important to think about what you can do to avoid these accidents.
Here are a few tips:
Do not text will driving;
Do not eat will driving;
Stay focused on traffic ahead of you;
Use a blue tooth device when talking on the phone;
Do not where headphones while driving.
Henderson Rear-End Collisions
The law in Nevada is clear and codified at NRS 484B.127 that vehicles shall not Follow too closely so as to cause an accident. Sadly, rear-end collisions happen every day in our community and can be fatal. In fact, I reminded of this tragic truth daily as I drive to my office past the memorial for the recent tragic rear-end collision that took the life of an innocent man in front of our office at St. Rose Parkway and Easter in Henderson, Nevada.
See: https://news3lv.com/news/instagram/1-dead-fiery-rear-end-collision-st-rose-parkway-henderson-eastern-avenue-hpd-police-traffic-accident-speeding-road-fatality-nevada
The law in Nevada states as follows regarding traveling to closely:
NRS 484B.127 Following Too Closely
The driver of a vehicle shall not follow another vehicle more closely than is reasonable and prudent, having due regard for the speed of such vehicles and the traffic upon and the condition of the highway.
The driver of any truck or combination of vehicles 80 inches or more in overall width, which is following a truck, or combination of vehicles 80 inches or more in overall width, shall, whenever conditions permit, leave a space of 500 feet so that an overtaking vehicle may enter and occupy such space without danger, but this shall not prevent a truck or combination of vehicles from overtaking and passing any vehicle or combination of vehicles. This subsection does not apply to any vehicle or combination of vehicles while moving on a highway on which there are two or more lanes available for traffic moving in the same direction.
What to Do Immediately After the Accident
Being in a car accident can be a very overwhelming and frightening experience. If you have recently been involved in a rear-end car accident in Henderson, Nevada, there are some important steps you should take to ensure your rights are protected.
The first and most important step is to remain calm and assess the situation. Check to make sure all passengers are unharmed and that no one is in need of medical attention. Once you have ensured everyone is safe, contact the police to file an accident report and obtain any information regarding the other driver. Exchange contact information with the other driver and obtain the names and contact information of any witnesses.
It is critically important if possible, to take pictures of the scene of the accident including any damage done to either vehicle, any skid marks on the road, and any other relevant details. These photos will be helpful later on in court proceedings or when discussing the incident with your car accident lawyer.
Do not sign any paperwork from the other driver's insurance company, as they may contain legal language that could limit your rights. Instead, seek out legal advice from an experienced personal injury attorney who can guide you through the process. At TheOneLawyer.com, we have the experience you need to get the medical care you need and the recovery you deserve.
How a Personal Injury Attorney Can Help
If you've been in a rear-end car accident in Henderson, Nevada, you may be entitled to compensation for your injuries and other losses. Unfortunately, obtaining such compensation is often difficult without the assistance of a qualified personal injury lawyer. With an experienced car accident lawyer on your side, you can protect your rights and get the compensation you deserve.
At the personal injury law firm of TheOneLawy.com, we can provide a number of services that are essential to recovering damages after a car accident. We will conduct an independent investigation into the crash to gather all relevant evidence. We will then use this evidence to build a strong case against the negligent party and prove their liability for the accident. This involves negotiating with insurance companies and proving your losses to ensure that you receive the full amount of compensation you are entitled to.
As an experienced personal injury law firm, we will also handle all of the paperwork associated with filing a claim and provide legal advice regarding any settlement offers we receive. We will also represent you in court if necessary and fight to protect your interests throughout the entire process. With an experienced car accident lawyer on your side, you can be sure that you have a strong advocate who is working hard to get you the justice and compensation you deserve.
Why Choose Us
If you've been in a car accident in Henderson, Nevada, you need the right attorney to help you get the compensation you deserve. That's why you should choose us. We have extensive experience in handling all types of personal injury cases, including rear-end collisions. Our founding attorney is a former insurance defense lawyer with more than 20 years of experience in the legal field. When you choose our firm, you will get expert help from a car accident lawyer who understands the ins and outs of how insurance companies work. We will fight for you against the insurance company to ensure that your rights are protected. We have the skills and resources to pursue your case to its fullest potential, and we are passionate about helping our clients achieve justice.
What You Should Do Following a Rear-End Car Accident?
Injuries form someone's negligence in a rear-end accident can be serious and cause great financial burden. At TheOneLawyer.com we can help with the economic strain and help you obtain the medical treatment that you need. If you or someone that you love has been hurt due to the negligence of another, call our office right away. We have over 20 years' experience helping victims recover from their injuries and recover financial losses following these type of accidents. If you have a question about any type of accident involving a personal injury, from a car accident or a slip and fall please don't hesitate to call us at 702-450-4868.
If you have been involved in a car crash in Henderson, Nevada, it is important to get the legal help you need to make sure that you are fully compensated for your injuries. A car accident lawyer will represent you against the insurance companies and other parties who are trying to pay you less than what you deserve for your injury or vehicle damage. At Our Law Firm, we help take the stress away from navigating a complex personal injury case so that you can focus on getting better. Our experienced team of car accident lawyers will negotiate with the insurance company on your behalf to ensure that you receive fair compensation for your injury. Don't wait, contact us today to find out how we can help you get the compensation you deserve.
---
Practicing Gratitude – Weekly Afirmation
Practicing gratitude for our daily enjoyments is important for our overall mental health. In the modern age our lives are filled with anxiety. Without gratitude, we can easily become exhausted and overwhelmed.
On this day, I am grateful for the peace of my quiet office on a holiday and my third cup of coffee. By practicing gratitude consistently, we will all be nicer humans. Each of my blog posts will contain something I am grateful for and at this time next year, they will be listed. I hope that you will also have a lengthy list by the end of 2023. I hope that by choosing gratitude, I will find the positive of each day, even the days that are demanding. In our practice we fight constantly with corporations for our clients every day and we are grateful you have chosen TheOneLawyer.com to fight you and your family after an injury. We are here to help you recover the injuries and pain a suffering you have endured from an accident.
Please do not hesitate to contact us anytime you have a legal question when you or a loved one has sustained an injury! call (702) 450-4868, or send a text 24/7 to (702) 600-0032.
Contact me today - As a former insurance attorney, I have expert knowledge of how insurance companies operate, and I get you the best possible outcome for your case!