Compassionate, Experienced & Highly Rated
"… I have met with attorneys who have wanted to "take control" of the conversation every time we talk. Laura is not one of these. She listens attentively, makes sure she understands all aspects of the situation, and then uses her vast knowledge of injury law to help out. I would be confident sending any friends or family to her for legal advice and help. …"



Avvo review by Greg
Dog Bite Attorney Representation in Henderson & Las Vegas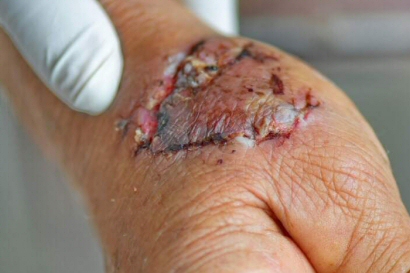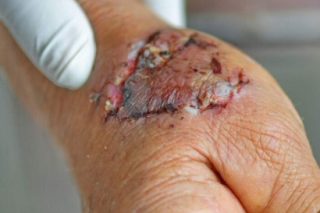 If you or a loved one has been attacked or bitten by a dog that is not yours, the personal injury law firm of Las Vegas dog bite lawyer Laura Payne,Esq can help you recover your medical bills, and money for the pain and suffering and trauma you have endured!
In 2015, 34 people in the US were killed by dog attacks and nearly 368,000 victims were treated in emergency rooms for dog bite injuries; see:
http://www.dogsbite.org/dog-bite-statistics-fatalities-2015
Dog Bite Victim In Nevada? Who Is At Fault?
The law regarding dog bites is different in every state. In Nevada, if you are bitten by a dog, the owner is not automatically considered at fault under the law; see:
http://www.leg.state.nv.us/nrs/nrs-202.html#NRS202Sec500
The victim must prove the owner of the dog was at fault for the injury.
Because, in Nevada, the dog owner is not automatically considered at fault, the required evidence and documentation must be gathered immediately to establish the owners liability for injuries sustained.
Factors that are important to know are:
Whether or not animal control responded
Whether or not police responded
Location of the injury
Ownership of the dog
If the owner was negligent in maintaining their dog, for instance the dog was loose or not on a leash, the owner can be liable for injuries sustained by the victim.
The personal injury law firm of dog bite attorney Laura Payne,Esq can immediately take steps to preserve the evidence in your case!
Recovering Expenses, Being Fairly Compensated Under the Law
Dog bites can inflict painful, traumatic, and residual injuries for which monetary compensation is warranted and allowed under the law.
Laura Payne, Esq is a top Henderson dog bite lawyer that has handled hundreds of dog bite cases. She is skilled and knowledgeable in the law in the state of Nevada and experienced in recovering money damages for victims of dog bites.
Compensation from Insurance Policies
Accident lawyer Laura Payne, Esq can locate insurance policies that are applicable, determine their applicability to the facts of the accident and can cover injuries to the victim.
In addition, she can recover the medical bills that you incur, along with damages for pain, suffering and scarring that are associated with being bitten by a dog.
She can help you obtain quality medical care, preserve the evidence, help with any bills you have already incurred and assist with Family Medical Leave (FMLA) if time off work is necessary; see compliance information:
https://www.dol.gov/agencies/whd/compliance-assistance
Deferred Payment of Medical Bills
If the dog owner has homeowners insurance that does not exclude the breed involved in the attack, it can take time to settle your claim since negotiations cannot begin until the extent of the scaring is known.
Meanwhile, Laura Payne, Esq can assist you in deferring payment of some of your bills, and/or getting on-going treatment and obtaining funding on a need basis is time from work is lost.
The Frequency and Cost of Dog Bites
It was estimated that in 2015, according the Insurance Information Institute, the average cost per dog bite claim was $37,214.00. It is also estimated that one in six dog bites requires medical care.
In fact, in 2012, nearly 27,000 people were forced to undergo reconstructive surgery as a result of being bitten by a dog; see:
http://www.iii.org/press-release/dog-bites-accounted-for-more-than-one-third-of-all-homeowners-liability-pay-outs-last-year-as-cost-per-claim-soars-051315
Estimated Number & Cost Of Dog Bite Claims / Other Dog-Related Injuries 2003 to 2015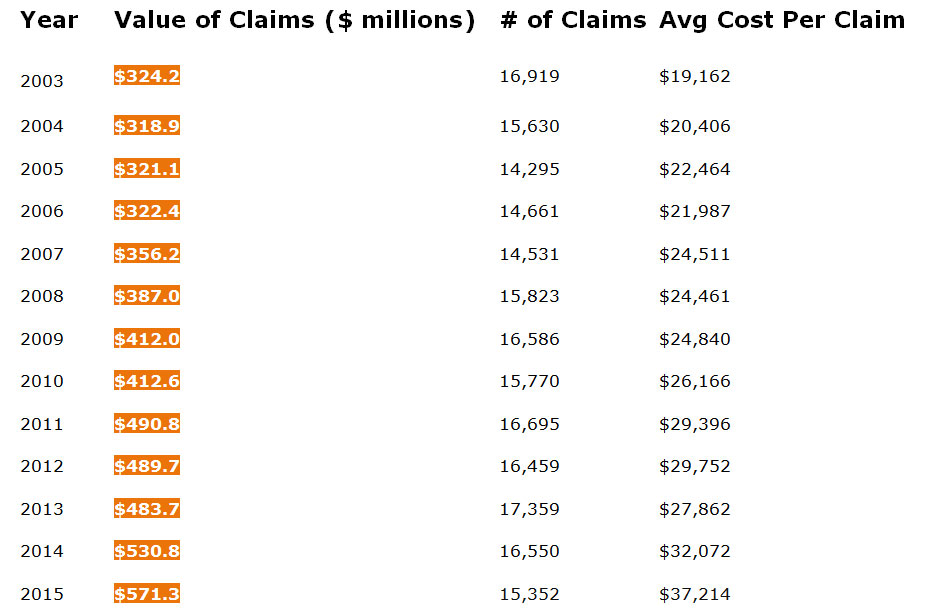 Contact Laura Today
Call (702) 450-4868 or send a consultation request to speak Las Vegas dog bite lawyer Laura Payne, Esq today!
Contact me today - As a former insurance attorney, I have expert knowledge of how insurance companies operate, and I get you the best possible outcome for your case!