Compassionate, Experienced & Highly Rated
"… I have met with attorneys who have wanted to "take control" of the conversation every time we talk. Laura is not one of these. She listens attentively, makes sure she understands all aspects of the situation, and then uses her vast knowledge of injury law to help out. I would be confident sending any friends or family to her for legal advice and help. …"



Avvo review by Greg
Get Expert Truck Accident Attorney Representation in Las Vegas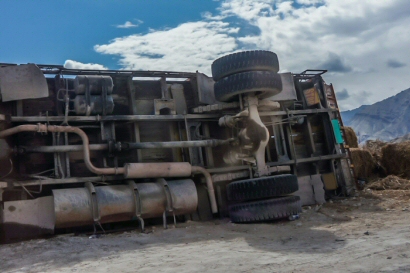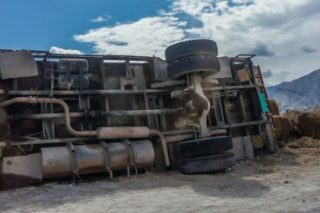 If you or a loved one was injured in a truck accident, please contact the personal injury law firm of truck accident attorney Laura Payne, Esq today at (702) 450-4868, or by sending a request for a free consultation!
A commercial truck accident can be catastrophic causing lifelong injuries or wrongful death to innocent victims. Trucking companies are large corporations that will immediately have attorneys, and you need a truck accident attorney to fight for you!
We also recommend to commercial truck owners to check out some best trackers for fleets, in this way they can track there drivers at any time and make sure that they are safe on the road.
Truck Accidents Can Cause Substantial Damage and Injury to Car and Driver
Although statistically truck drivers are generally more cautious on the roadway then automobile drivers, truck accidents and truck crashes still accounted for nearly 4,000 fatalities and 111,00 injuries in 2014. Most deaths resulting from large truck accidents are people in passenger vehicles involved in truck accident collisions. Passenger vehicles are vulnerable based on the size ratio. Commercial trucks involved in truck accidents often weigh 20 to 30 times as much as the passenger cars they collide with. They are also much taller and have greater ground clearance which can result in smaller vehicles under riding.
Factors that Contribute to Truck Accidents
Breaking Capacity: The breaking capacity of trucks is a factor in truck accidents. A loaded tractor trailer can take 20 to 40% longer distance than a passenger car to stop. Discrepancy is even greater on wet and slick roads or when truck involved is poorly maintained.
Driver Fatigue: Truck driver fatigue is also a known crash risk. There are documents that can be obtained by a truck accident lawyer to preserve evidence when drivers of semi trucks have failed to follow federal law and driven too long or too far.
What to Do If You're In a Truck Accident
Seek Medical Attention Immediately
If you are injured in a truck accident, seek medical attention immediately. Even if you feel okay, it's important to get an authorized medical assessment of your condition as symptoms of injuries may take hours to surface.
Quickly Preserve the Truck Accident Evidence
Quickly preserving the truck accident evidence helps you maintain your rights. Truck accidents often occur on highways when you are away from home and are relying on authorities to collect evidence. However it is essential that you diligently preserve all of the evidence resulting from the truck accident.
Truck Accident Evidence to Preserve
Always call the police and if possible, wait for them to arrive. However, the police in Nevada often are unable to respond to traffic accidents.
Therefore:
Exchange name, phone and address.
It is critical that you take photographs of the vehicles especially documenting the location where the vehicles came to rest following the accident.
Obtain the insurance information of the other driver.
Photograph the other driver's license.
Photograph the other driver's license plate.
Take a photo of the other driver.
Always remain calm and courteous as your words and actions may be relived in Court.
Rightful Compensation for Truck Accident Injuries or Death
If you or a loved one is involved in a truck accident with a commercial truck of any type, you may be entitled to recover compensation for catastrophic injuries you sustained by bringing a legal claim against the trucking company responsible for your injuries or for the wrongful death of your loved one.
The personal injury law firm of Laura Payne, Esq, top truck accident lawyer in Las Vegas who is ready to work for you to obtain the best compensation for your personal injury case!
Contact me today - As a former insurance attorney, I have expert knowledge of how insurance companies operate, and I get you the best possible outcome for your case!