Compassionate, Experienced & Highly Rated
"… I have met with attorneys who have wanted to "take control" of the conversation every time we talk. Laura is not one of these. She listens attentively, makes sure she understands all aspects of the situation, and then uses her vast knowledge of injury law to help out. I would be confident sending any friends or family to her for legal advice and help. …"



Avvo review by Greg
Slip and Fall Lawyer Serving Henderson & Las Vegas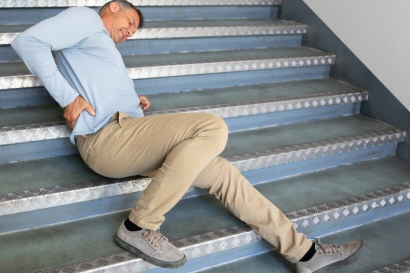 If you or a loved one was injured in a slip and fall accident, please contact the personal injury law firm of Henderson slip and fall attorney Laura Payne, Esq today at (702) 450-4868, or by sending a request for a free consultation!
Slip and falls are one of the leading causes of unintentional injuries in the United States. In 2015, there were approximately 8 million visits to emergency rooms in the United States as result of slip and fall accidents; see:
https://nfsi.org/nfsi-research/quick-facts/
Falls are the second leading cause of unintentional death in homes and communities in the United States, resulting in more than 25,000 fatalities in 2015.
Landowners have a legal duty to maintain their premises in a safe condition to prevent slip and fall injuries.
What to Do If You Are Injured in a Slip and Fall Accident
Contact an attorney to help you pursue your legal rights.
Get Witness Contact Info: Obtain the name, address and phone number of all witness's present.
Notify Management: Notify the premises management immediately.
Seek medical care.
Take Photographs: Immediately take photographs of the location where you fell to document the hazardous condition at the time of the fall.
Seek Legal Counsel Immediately
There are numerous defenses allowed under the law by landowners to prevent liability for slip and fall accidents. At the slip and fall injury law office of Laura Payne, Esq we are experienced in slip and fall cases and have collected millions of dollars for our clients. If you or a loved one has been seriously injured in a slip and fall accident, it is imperative that you seek counsel immediately or evidence will be lost and you may be unable to prove your case.
What Legal Counsel Will Do for You
Accident lawyer Laura Payne, Esq will immediately contact the facility where you fell to provide legal documentation to prevent the destruction of evidence by the facility. It would be very difficult to pursue a slip and fall claim without counsel due to the strenuous defense of these claims by most property owners.
Recover Damages
If you or a loved one has been injured in a slip and fall accident, please contact our office immediately. We have recovered millions of dollars for people that have been injured in slip and fall accidents. The Law Offices of Laura Payne,Esq. is here to help you recover monetary damages for injuries you sustained in a slip and fall accident. Please call us today for a free consultation.
Remove These Risk Factors to Decrease Likelihood of a Slip and Fall Accident
Research has identified many conditions that contribute to falling. These are called risk factors. They following are some examples of risk factors but certainly not all of the ways a landowner can be negligent in causing a patron to slip and fall:
A slick substance or liquid on the ground or pooled water.
Broken or uneven steps, pavement or concrete.
Cables or wires improperly placed.
Carpet that is rippling.
Ice on walks.
Improperly applied construction materials to flooring.
Lack handrails along stairs or in the bathroom.
Potholes.
Slick suffer which does not meet legal standards.
The floor can be unusually slick or fail to be slip resistant.
Throw rugs or clutter that can be tripped over.
Unexpected debris.
Most falls are caused by a combination of risk factors. Injuries can be caused as a result of numerous negligent conditions and hazards; see:
https://nfsi.org/nfsi-research/quick-facts/
Slip and Fall Injuries Represent a Large Cause of Serious Injury in the U.S.
22% of slip/fall incidents resulted in more than 31 days away from work (US Bureau of Labor Statistics (2002).
85% of worker's compensation claims are attributed to employees slipping on slick floors (Industrial Safety & Occupational Health Markets 5th edition).
According to The National Institute on Aging, every year 30% of people over the age of 65 will sustain a fall, of which 10% will result in a serious injury.
According to Workers Compensation statistics from ITT-Hartford Insurance Company, falls account for 16% of all claims and 26% of all costs. This compares to 33% of costs associated with sprains and strains.
According to the American Trucking Association, slips and falls are the leading cause of compensable injury in the trucking industry.
According to the Consumer Product Safety Commission (CPSC), floors and flooring materials contribute directly to more than 2 million fall injuries each year.
Compensation & medical costs associated with employee slip/fall accidents is approximately $70 billion annually (National Safety Council Injury Facts 2003 edition).
Disabling (temporary and permanent) occupational injuries due to falls are approximately $250,000-$300,000 per year.
Falls account for 87% of all fractures among people over the age of 65 and are the second leading cause of spinal cord and brain injury.
Falls account for over 8 million hospital emergency room visits, representing the leading cause of visits (21.3%). Slips and falls account for over 1 million visits, or 12% of total falls.
Falls from elevation (approximately 40% of compensable fall cases, approximately 10% of occupational fatalities).
Falls on the same level (approximately 60% of compensable fall cases). (W. Monroe Keyserling, Ph.D. 2000).
For people aged 65-84 years, falls are the second leading cause of injury-related death; for those aged 85 years or older, falls are the leading cause of injury-related death.
Half of all elderly adults (over the age of 65) hospitalized for hip fractures cannot return home or live independently after the fracture.
Of all deaths associated with falls, 60% involve people aged 75 years or older.
Over 60% of nursing homes residents will fall each year.
Slips and falls are the leading cause of workers' compensation claims and are the leading cause of occupational injury for people aged 15-24 years.
Total injuries due to falls estimated at $13-14 million per year in U.S. Falls are the number one cause of accidental injury, resulting in 20.8 percent of all emergency room visits in 1995. (Motor vehicle accidents accounted for 11.9 percent of ER visits.)
See: https://nfsi.org/nfsi-research/quick-facts/
The Cost of Treating Slip and Fall Injuries
In 2015, costs for falls to Medicare alone totaled over $31 billion according to Web–based Injury Statistics Query and Reporting System (WISQARS) Because the U.S. population is aging, both the number of falls and the costs to treat fall injuries are likely to rise. The following reasoning illustrate these costs:
Each year, millions of people are treated in emergency departments because of falls.
Fall injuries are among the 20 most expensive medical conditions.
Over 800,000 patients a year are hospitalized because of a fall injury, most often because of a broken hip or head injury.
The average hospital cost for a fall injury is over $30,000.
The costs of treating fall injuries goes up with age.
Contact me today - As a former insurance attorney, I have expert knowledge of how insurance companies operate, and I get you the best possible outcome for your case!