Traffic Fatalities in Nevada – Fatal Crash at I-11 North of Horizon Drive on January 14, 2023
Compassionate, Experienced & Highly Rated
"… I have met with attorneys who have wanted to "take control" of the conversation every time we talk. Laura is not one of these. She listens attentively, makes sure she understands all aspects of the situation, and then uses her vast knowledge of injury law to help out. I would be confident sending any friends or family to her for legal advice and help. …"



Avvo review by Greg
Traffic Fatalities in Nevada – Fatal Crash at I-11 North of Horizon Drive
Estimated Reading Time:
9
minutes
Note: Get instant webcam footage of local traffic conditions throughout the Las Vegas valley at sigalert.com.
---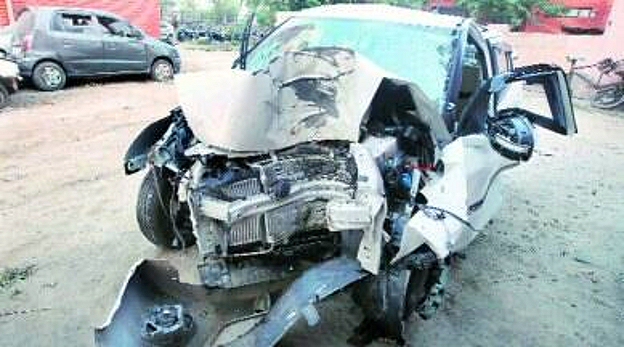 A fatal crash in Henderson on Sunday January 14, 2023, occurred two minutes after the driver of a car stopped to render aid to the victim of a single car crash whose car was then hit by a third vehicle, the Nevada Highway Patrol said Friday.
At 4:48 a.m., on Interstate 11 just north of Horizon Drive, a silver Hyundai Elantra driven by Noah Williams, 39, of Las Vegas, was traveling south and traveled left across the travel lanes and into the inside shoulder, striking a median barrier, according to a Highway Patrol statement.
Moments later, the driver of a silver Fiat 500L stopped behind Williams' vehicle to provide aid and serve as a witness to the accident.
At 4:50 a.m., a Ford Explorer SUV traveling south on Interstate 11, approached Williams' stopped silver Hyundai in the right travel lane and, unable to stop, struck the front of the Hyundai killing the driver of the Hyundai.
See: https://www.reviewjournal.com/local/local-las-vegas/man-ejected-killed-in-3-car-crash-on-i-11-in-henderson-2712109/
This is a tragedy beyond words for our community and at TheOneLawyer.com, we urge drivers in our community to follow the safety tips below and stay safe.
Driving is a dangerous proposition in Las Vegas, and as a car accident lawyer serving Henderson and Las Vegas I write often to inform local residentas of dangers on the roadway, and things to be careful about. Unfortunately, it is actually statistically more dangerous to drive a motor vehicle on a daily basis than it is to fly in an airplane. Human error and negligence are the leading reasons that driving is inherently dangerous … and we live in an age of constant distractions.
In 2021, The National Safety Council estimated 46,020 people were killed in motor vehicle crashes which was a 9% increase over 2020. Driving on our roadways has become more dangerous and interestingly became worse during the pandemic. Driving continues to pose as one of the greatest safety risks we face each day.
This increase in deadly accidents began during the onset of the COVID-19 pandemic and tragically negates more than 15 years of progress in reducing the rate of deaths on U.S. roads.
The National Safety Council has created the following checklist to follow to reduce the risk of death on the roadways and I think this list warrants a careful review by all drivers.
Following are 11 tips for travel to destinations near and far:
Prepare before you go: Before hitting the road, make sure your car is safe for driving. Vehicle owners should check the oil, put air in the tires, and check for and repair open recalls. Visit ChecktoProtect.org to see if your vehicle has an open recall, and get it repaired for free.
Drive distraction-free: Carlos was lucky. Thousands have died in crashes involving cell phone use. Put your phones away and #JustDrive.
Slow down: Speeding is a factor in more than a quarter of all traffic fatalities. Drive the speed limit and do not exceed it. Be sure to pay attention to those walking and biking in order to keep all road users safe.
Designate a sober driver or arrange alternate transportation: Alcohol is only one cause of impaired driving. Drugs, including opioids, marijuana and some over-the-counter medicines, can cause drowsiness, alter visual functions and affect mental judgement and motor skills.
Avoid fatigued driving: Getting behind the wheel while fatigued can be deadly. Ensure you are well-rested before you get on the road.
Buckle up: Seat belts are estimated to have saved 374,276 lives. Every occupant should buckle up appropriately; teens have the lowest rates of seat belt use among all age groups.
Protect vulnerable passengers: Child safety seats significantly reduce the risk of infant and toddler deaths. Make sure you read the manufacturer's instructions before installing a car seat. If you need help, visit the National Child Passenger Safety Board (cpsboard.org) to find a certified technician near you.
Look before you lock: Last year, 25 children died in hot cars. With temperatures rising across the country and the special occasion breaking routine, make it a priority to ensure you don't leave the car without your child passengers. The temperature in your vehicle can increase up to 19 degrees Fahrenheit in the first 10 minutes after parking and turning off the engine. Visit nsc.org/hotcars to learn more.
Understand your vehicle's on-board safety systems: Hundreds of millions of cars on the roads have safety technologies – new and old – that help reduce the risk of crashes and deaths. But even the most advanced safety feature cannot replace a safe, focused driver in the car. Visit MyCarDoesWhat.org to learn more.
Take an alternate path: For shorter trips, consider leaving the car at home and finding a safe biking or walking route to get when you're headed.
Watch for all road users: Bicycle, motorcycle, pedestrian accidents may be more common this holiday weekend, so please look for and respect all road users to give everyone around you space to be safe.
See: https://www.nsc.org/road/protect-yourself-and-loved-ones-by-addressing-road
Recent Nevada Traffic Fatalities
It is a sad fact that 2022 was the fifth-deadliest year for traffic fatalities in Nevada. There were 382 traffic death in 2022. However, that is only three less than for 2021, according to data from the Nevada Department of Public Safety. These fatalities resulted from 352 fatal car accidents that occurred in Nevada in 2022. Although the number of fatal accidents in 2022 was down 2% from 2021, the total number of deaths was nearly the same in 2021.
The Nevada Department of Public Safety found that driver impairment and excess speed are the largest contributing factors to deadly crashes in Nevada. The five worst years for traffic fatalities in Nevada have been 2022, 2021, 2006 (431), 2005 (427), and 2004 (395)
In addition to fatal auto accidents, pedestrian deaths increased 5 percent in Nevada from 2021 to 2022, accounting for 88 deaths last year, while cyclist deaths climbed 114 percent, going from seven in 2021 to 15 in 2022.
On a more positive note, Motorcyclist fatalities fell 7 percent for 2022 to 78 deaths which is six fewer than the 84 fatalities in 2021. One statistic that is especially tragic is that Fatalities resulting from the failure to buckling a seat belt rose 5 percent in 2022 from the 2021, with 79 deaths occurring as a result of failing to wear a safety belt. That is a heartbreaking statistic that 79 families have suffered a tragic loss for simply not wearing a seat belt.
See: https://www.reviewjournal.com/local/traffic/2022-one-of-deadliest-on-nevada-roads-in-decades-2709242/
Elements of a Wrongful Death Claim
Every state has a specific statute on the books that govern the elements of a wrongful death claims. Although they are similar in many states it is important that your attorney know the specific laws in your state governing a family's right to recovery. In Nevada our statute states as follows:
NRS 41.085 Heirs and personal representatives may maintain action.
As used in this section, "heir" means a person who, under the laws of this State, would be entitled to succeed to the separate property of the decedent if the decedent had died intestate. The term does not include a person who is deemed to be a killer of the decedent pursuant to chapter 41B of NRS, and such a person shall be deemed to have predeceased the decedent as set forth in NRS 41B.330.
When the death of any person, whether or not a minor, is caused by the wrongful act or neglect of another, the heirs of the decedent and the personal representatives of the decedent may each maintain an action for damages against the person who caused the death, or if the wrongdoer is dead, against the wrongdoer's personal representatives, whether the wrongdoer died before or after the death of the person injured by the wrongdoer. If any other person is responsible for the wrongful act or neglect, or if the wrongdoer is employed by another person who is responsible for the wrongdoer's conduct, the action may be maintained against that other person, or if the other person is dead, against the other person's personal representatives.
An action brought by the heirs of a decedent pursuant to subsection 2 and the cause of action of that decedent brought or maintained by the decedent's personal representatives which arose out of the same wrongful act or neglect may be joined.
The heirs may prove their respective damages in the action brought pursuant to subsection 2 and the court or jury may award each person pecuniary damages for the person's grief or sorrow, loss of probable support, companionship, society, comfort and consortium, and damages for pain, suffering or disfigurement of the decedent. The proceeds of any judgment for damages awarded under this subsection are not liable for any debt of the decedent.
The damages recoverable by the personal representatives of a decedent on behalf of the decedent's estate include:
(a) Any special damages, such as medical expenses, which the decedent incurred or sustained before the decedent's death, and funeral expenses; and
(b) Any penalties, including, but not limited to, exemplary or punitive damages, that the decedent would have recovered if the decedent had lived,
Ê but do not include damages for pain, suffering or disfigurement of the decedent. The proceeds of any judgment for damages awarded under this subsection are liable for the debts of the decedent unless exempted by law. (Added to NRS by 1979, 458; A 1995, 2667; 1999, 1354)
Who Can File a Claim?
In order to bring a claim on behalf of a loved on you must have what is called "standing" to file a wrongful death lawsuit. Standing means that you must be an immediate family member such as a spouse, child, or parent of the deceased victim. A personal representative of the estate will be named in the lawsuit on behalf of the decedent's estate and the family members.
Wrongful Death in a Car Accident
Losing a loved one is a tragedy and losing a loved one to someone's negligence in an auto accident is an unthinkable loss for every family. While we cannot bring that person back, we can help ease the financial burden that goes along with the loss of a loved one. If you or someone that you love has lost a loved one due to the negligence of another, contact our office immediately. We have over 20 years' experience helping loved ones and family members recover for the loss of their family.
If you have a question about the wrongful death of a family member or any type of accident involving a personal injury, whether from a car accident or a slip and fall or any combination of injuries, please don't hesitate to call us at (702) 450-4868.
---
Practicing Gratitude
It is important for all of us to be the change we want to see in the world by making gratitude a part of each day. Today, I am grateful for the crisp sunrise that welcomed a morning walk. If we all practice gratitude more regularly, the world will be a kinder place. Each of my blog posts will contain something I am grateful for and at this time next year, they will be listed. I hope that you will also have a long list by the end of 2023. I hope that by reflecting on gratitude, I will find the positive of everyday, even the days that are stressful in court and adversarial with the insurance companies. We fight hard with these insurance companies for our clients every day and we are grateful you have chosen TheOneLawyer.com to fight your you and your family after a car accident and help you recover for the injuries sustained in that car accident. Please do not hesitate to call us anytime you have a legal question or you or a loved one has sustained an injury at (702) 450-4868 and text 24/7 at (702) 600-0032.
Contact me today - As a former insurance attorney, I have expert knowledge of how insurance companies operate, and I get you the best possible outcome for your case!