Always Drive Safe During Labor Day Weekend
Compassionate, Experienced & Highly Rated
"… I have met with attorneys who have wanted to "take control" of the conversation every time we talk. Laura is not one of these. She listens attentively, makes sure she understands all aspects of the situation, and then uses her vast knowledge of injury law to help out. I would be confident sending any friends or family to her for legal advice and help. …"



Avvo review by Greg
Always Drive Safe During Labor Day Weekend in Henderson & Las Vegas
Estimated Reading Time:
7
minutes
Note: Get instant webcam footage of local traffic conditions throughout the Las Vegas valley at sigalert.com.
---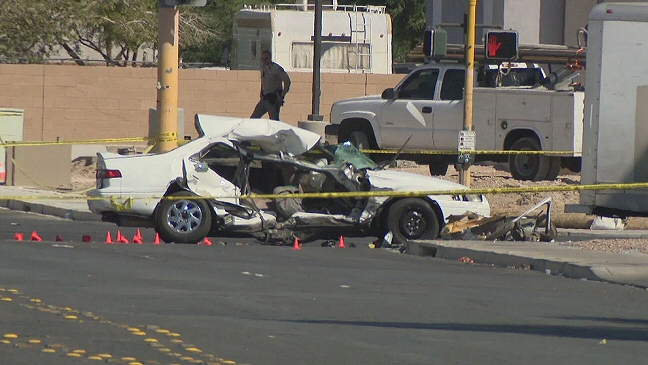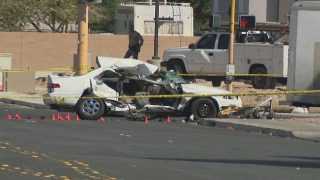 Sadly, Nevada finishes with 382 traffic deaths in 2021 – highest in 15 years! Nevada's tragic tally of 382 traffic deaths in 2021 serves as a stark reminder of the need for road safety.
According to recent reports from local news sources like KVBC Channel 3 News, officials have highlighted the importance of safe driving practices, especially during holidays like Labor Day weekend.
This underscores the urgency of promoting responsible driving habits to prevent further accidents and fatalities on our roads.
News Channel 3 reported on this tragic story:
LAS VEGAS (KSNV) — For 2021, Nevada recorded its deadliest year on the roads in 15 years, according to preliminary state data.
There were 26 traffic-related fatalities in December, per the latest figures from Nevada's Office of Traffic Safety. While that's down from the 32 deaths recorded in December 2020, Nevada finished with 382 deaths on the road in 2021, up nearly 18% compared to the previous year, when there were 324 deaths.
Andrew Bennett, spokesman for the Office of Traffic Safety, tweeted that 2021 was "the worst year on Nevada's roadways since 2006."
The leading causes for deadly collisions were impairment and speeding.
In Clark County, there have been 235 fatalities reported from 2021, up nearly 21% from the 193 deaths reported in 2020.
Deaths statewide involving pedestrians and motorcyclists both increased year-over-year, according to the figures.
There were 85 pedestrian deaths in 2021, up from 82 the year prior, while motorcyclist deaths increased from 60 in 2020 to 79 last year.
Bennett noted in an email that the total number of fatalities will likely change over the next several months and will not be considered final until 2023.
by Matthew Seeman Channel 3 News
https://news3lv.com/news/local/gallery/nevada-finishes-with-382-traffic-deaths-in-2021-highest-since-2006
---
What You Should Do in an Accident Resulting in a Death
What Should I Do If I'm Involved In A Traffic Accident That Results In A Fatality In Nevada?
Being involved in a traffic accident that results in a fatality is a traumatic experience. Here's a step-by-step guide on what to do in such a situation:
Prioritize Safety:
Ensure your safety and the safety of others involved by moving to a safe location if possible. Turn on hazard lights and set up warning signs or flares, if available, to alert other drivers.
Call 911:
Dial 911 immediately to report the accident and request emergency medical assistance. Provide accurate information about the location, the number of vehicles involved, and the severity of injuries.
Remain at the Scene:
Stay at the accident scene until law enforcement arrives, as leaving the scene could result in legal consequences.
Cooperate with Authorities:
When the police arrive, provide accurate and truthful information about the accident. Follow their instructions and cooperate fully with their investigation.
Gather Information:
If it's safe to do so, gather information from the accident scene, including photos of vehicle damage, road conditions, and any relevant signage.
Contact Your Attorney:
As a personal injury attorney, you understand the importance of legal representation. If you're directly involved, contacting your attorney at this point can be beneficial.
How Extensive Is A Police Investigation In A Fatal Accident?
Police investigations into fatal accidents are comprehensive and aim to determine the cause of the accident and whether any criminal charges should be filed. Usually the road will be at least partially closed during the investigation. Police are thorough and are also investigating any potential criminal liability as well as civil liability. The investigation may include:
Accident Reconstruction: Police will analyze physical evidence to recreate the sequence of events leading to the accident.
Eyewitness Statements: Officers will interview witnesses to gather firsthand accounts of the accident.
Vehicle Inspections: Vehicles involved may undergo thorough inspections to assess mechanical failures or defects.
Toxicology Tests: If applicable, toxicology tests on drivers involved may be conducted to determine if drugs or alcohol were a factor.
Data Analysis: Police may analyze data from vehicle black boxes, surveillance cameras, or witnesses' accounts to piece together the events.
How Does Nevada's High Fatality Rate Impact Road Safety Efforts?
Nevada's high auto accident fatality rate serves as a sobering reminder of the importance of road safety. The state's efforts to address this issue include:
Awareness Campaigns: Initiatives like urging drivers to drive safely over holidays like Labor Day aim to remind motorists of the risks and encourage responsible driving.
Law Enforcement Vigilance: Police step up enforcement during high-risk periods to deter dangerous behaviors like speeding, impaired driving, and distracted driving.
Infrastructure Improvements: Nevada is investing and improving road design, signage, and intersection safety to reduce the risk of accidents.
How Can Victims And Their Families Seek Legal Assistance After A Fatal Accident?
Seeking legal assistance is crucial for victims and their families after a fatal accident. At TheOneLawyer.com we are a personal injury law firm in Henderson, NV and can offer the following guidance:
Free Consultation: Victims' families should consult an attorney to discuss their legal options and potential compensation.
Investigation: As attorneys we can conduct independent investigations to gather evidence from the police and insurance companies and even locate witness' to determine liability.
Insurance Claims: As personal injury attorneys we can help you to navigate the complexities of dealing with insurance companies and ensure you and your family receive fair compensation.
Wrongful Death Claims: As personal injury attorneys we can determine who was negligent in causing the accident. At TheOneLawyer.com, we can file wrongful death claims to hold responsible parties accountable for money damages.
Navigating a fatal accident and its aftermath can be overwhelming. By following the steps outlined above and seeking legal assistance, victims and their families can take the necessary steps toward healing and seeking justice. During the emotional and overwhelming time, you need an attorney committed to caring and personal representation for you and your loved ones.
---
TheOneLawyer.com
Please always drive safely during Labor Day Holiday weekends. It is important for all of us to use the kindness that we want to see in the world by making gratitude a part of each day. Today, I am grateful for my talented assistant Lora Jackson for her kind and intelligent service to our clients on a daily basis. If we all practice gratitude, the world will be a kinder place. Each of my blogs will contain something I am grateful for and at this time next year, they will be listed. I hope that you will also have a long list by the end of 2023. I hope that by reflecting on gratitude, I will find the positive of everyday, even the days that are stressful at the court and adversarial with the insurance companies. We fight hard with this companies for our clients every day and we are grateful you have chosen TheOneLawyer.com to fight your you and your family after a car accident and help you recover for the injuries sustained in that car accident.
At TheOneLawyer.com, we are here to serve our community and provide legal services in the Henderson and Las Vegas area and we are grateful for this opportunity. We are a boutique law firm providing specialized and personal representation to injured clients. At the Law Offices of Laura Payne, Esq. TheOneLawyer.com we have provides a caring service to each and every one of our clients on various legal matters for over 15 years. If you have a question regarding any type of personal injury or paying your medical bills from an accident, please do not hesitate to call the offices of TheOneLawyer.com and speak directly to attorney Laura Marie Payne, Esq. Laura is recognized as one of Nevada's Top 100 Lawyers. She has the experience and knowledge to obtain the maximum settlement you deserve. Please call our office if you or a loved one is injured. We can make sure that you receive the care you need and deserve and advise on how to preserve evidence.
At our office, we are experienced in helping injured victims get the compensation they are entitled to. Insurance companies never have the best interest of the injured person at the top of their priorities. They want to pay as little on every claim as possible. Having worked for an insurance company as an attorney for 9 years before opening my boutique law firm specializing in helping injured people, I have reviewed thousands of auto accident claims and policy provisions.
At the Henderson and Las Vegas Accident injury law offices of TheOneLawyer.com, car accident lawyer Laura Payne, Esq. and her staff are here to help you and your family in the event that accidents and tragedies occur. For any of your legal needs, do not hesitate to contact our Henderson and Las Vegas Accident injury offices. TheOneLawyer.com is a boutique, family-owned law firm that specializes in helping injured people and the community of Las Vegas and Henderson Nevada with legal issues involving auto accidents, wrongful deaths, slip and falls, truck accidents, injuries to children, bicycle accidents, dog bites, product liability claims, and all types of injury claims. Please do not hesitate to call us anytime you have a legal question or you or a loved one has sustained an injury at 702-450-4868 and text 24/7 at 702-600-0032.
Contact me today - As a former insurance attorney, I have expert knowledge of how insurance companies operate, and I get you the best possible outcome for your case!