Ten Things To Do At The Scene Of A Car Accident
Compassionate, Experienced & Highly Rated
"… I have met with attorneys who have wanted to "take control" of the conversation every time we talk. Laura is not one of these. She listens attentively, makes sure she understands all aspects of the situation, and then uses her vast knowledge of injury law to help out. I would be confident sending any friends or family to her for legal advice and help. …"



Avvo review by Greg
Ten Things To Do At The Scene Of A Car Accident
Estimated Reading Time:
7
minutes
Note: Get instant webcam footage of local traffic conditions throughout the Las Vegas valley at sigalert.com.
---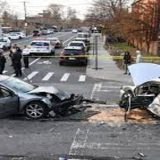 Unfortunately, car accidents happen every day throughout the Las Vegas valley. Just recently there was another tragic accident in Henderson. Police investigated a fatal on January 8 near Interstate 11, north of Horizon Drive in Henderson.
See: https://www.reviewjournal.com/local/henderson/police-investigate-fatal-crash-in-henderson-2708621/
Sadly, we see this all too often in our community. TheOneLawyer.com has over twenty years of experience as both an experienced attorney and former insurance defense attorney. With millions collected for their clients, we can help you get your car fixed, secure a rental car while yours is being fixed, and obtain compensation for any personal injuries sustained as a result of a car accident. Call TheOneLawyer.com today for more information on how we can help you following your Henderson / Las Vegas area car accident. We will be able to quickly assess the situation and provide reliable guidance as you navigate the aftermath. We provide support throughout the entire process, so you can focus on getting your car fixed and finding alternate transportation such as a rental car while yours is being repaired. After 20 years in the car accident business, the following are ten things you should do following an accident:
Table of Contents
Stop And Check If Anyone Needs Medical Attention
If you are involved in a car accident, the most important thing to do is stop and check if anyone needs medical attention. Even if there is only minor damage to the vehicles, you should always make sure that everyone is okay. If anyone is injured, render aid immediately. Do not admit fault or apologize for any damages. Instead, focus on the wellbeing of everyone involved.
Take Photos Of The Positions Of The Vehicles
If you are involved in a car accident, it is important to take photos of the position of all the cars. This will help you prove what happened in the accident and establish who was at fault. This evidence is invaluable when trying to collect compensation for any personal injuries or damages sustained. An experienced attorney can help you understand your rights in these situations and advise you on how to proceed.
Call 911 And Report Injuries
If you have been involved in a car accident, it is important to call 911 immediately and report any injuries. Even if you think your injuries are minor, it's important to have them documented in case the pain becomes more severe or develops into something else. The police will document the details of the accident and help you begin to establish liability for the damages. If you need medical attention, 911 will send out an ambulance to provide assistance and care.
Get The Other Driver's Insurance Info. Take Their Photo
After an auto accident, it's important to exchange insurance information with the other driver. This includes their name, policy number, and the name of their insurance provider. You should also take a picture of the other driver's license and registration for your records. If you have experienced personal injuries due to a car accident, you may need an experienced attorney to get your medical bills and car fixed, or a rental car if needed.
Take Photos Of The Damage To The Vehicles
When you are involved in a car accident, it is important to take photos of the damage to both vehicles. Doing so helps to preserve evidence that can later be used by an experienced attorney to prove the impact of the accident. Make sure to capture the moment from multiple angles and get close-up shots of the damage.
Take Photos Of All Drivers Licenses And Registration
If you've been in a car accident, it's important to take photos of all drivers' licenses and registration. Not only will this provide a record of the drivers involved, but it can also help provide information to locate them later if they are not cooperative. Having a photo of the license and registration will provide your experienced attorney with the necessary information to make a strong case for compensation. If you're involved in a car accident, make sure you take photos of all drivers' licenses and registration. Then call TheOneLawyer.com right away to begin building your case!
Stay Calm And Do Not Get Angry
Getting into a car accident can be an emotional and stressful experience. It is important to remain calm and focus on the well-being of everyone involved. Cars can always be fixed, but people's lives are most important. Your demeanor and words may be used later, and it is important that you are not angry or unkind in the stress of the moment.
If Possible, Drive Your Car Home
Tow yards can be expensive, and you will have no control over when your car gets fixed or when you get a rental car. Additionally, you may have important personal property in your vehicle that you may not be able to access. It is very difficult to access your vehicle once it is taken to a tow yard.
Seek Medical Attention
If you are involved in a car accident, it is important to seek medical attention as soon as possible. Even if you don't feel pain immediately, you may still have suffered serious injuries. Therefore, you should report any and all pain that you experience after the accident. Do not minimize your pain or attempt to downplay it in any way. It is important that all pain be documented for your protection and for use in any potential litigation. Remember to report everything even if it seems minor at the time.
Call TheOneLawyer.com
If you've been involved in a car accident, you need an experienced attorney to help you get the compensation you deserve. TheOneLawyer.com can provide you with an experienced attorney who is a former insurance defense attorney and has collected millions of dollars for her clients through successful settlements and trials. At TheOneLawyer.com we have great reviews from satisfied customers. Our team of experienced legal professionals have the knowledge and experience to ensure that your personal injuries are taken seriously and that you are represented properly.
Don't wait to get the help you need after a car accident; request a free consultation online or call TheOneLawyer.com today at (702) 450-4868, and let us fight for the compensation you deserve!
Practicing Gratitude – Weekly Afirmation
When it comes to driving on Henderson roadways, practicing gratitude can be a great way to stay calm. We can easily become frustrated with aggressive drivers. By taking time to practice gratitude we can help to keep emotions in check. By driving prudently and being considerate to those around us, we can get to our destination without incident.
Practicing gratitude every day is important for our overall well-being. In these times, our lives are full of tense situations. Without gratitude, we can easily be exhausted. On this day, I am grateful for new friendships I have within the Southern Nevada Association of Women Attorneys and the great advice I have received from by fellow female colleagues. By practicing gratitude regularly, we will all be less stressed and have more inner peace in our lives. Each of my blog posts will contain something I am grateful for, and at the end of the year, they will be listed in a year end blog.
I hope we all will have a long list by the end of 2023 of our grateful affirmations. I hope that by thinking about gratitude, I will find the light of each day, even the days that are challenging.
In our practice we fight daily with insurance companies for our clients, and we are grateful you have chosen TheOneLawyer.com to fight you and your family after an accident. We are here to make sure you receive compensation for the injuries you have suffered and the pain you have endured following an accident.
Please, do not hesitate to call us anytime you have a legal question or you or a loved one has sustained an injury at (702) 450-4868 or text us 24/7 at (702) 600-0032.
Contact me today - As a former insurance attorney, I have expert knowledge of how insurance companies operate, and I get you the best possible outcome for your case!