Election Day November 4, 2022 – Why Every Vote Counts
Compassionate, Experienced & Highly Rated
"… I have met with attorneys who have wanted to "take control" of the conversation every time we talk. Laura is not one of these. She listens attentively, makes sure she understands all aspects of the situation, and then uses her vast knowledge of injury law to help out. I would be confident sending any friends or family to her for legal advice and help. …"



Avvo review by Greg
Election Day – Why Every Vote Counts
Estimated Reading Time:
7
minutes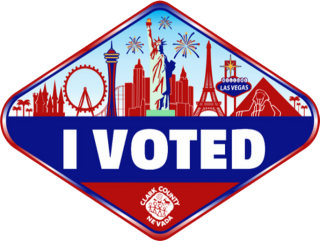 Election Day November 4, 2022
The polls are open from October 22 – November 4 (times very).
You can vote at any polling center.
The touch machines also create a paper ballot at the same time for records.
Fill out your ballot before you get to polls.
Exercise you right, Vote today!!!!!!!!
You Can Vote At Any Voting Center
Fortunately for voters, assigned polling places have been replaced by election day voting centers. This is good news for everyone in Clark County. You are now allowed to vote on election day at any voting locations throughout the entire county. Many of us vote on the way to work or while we are picking up kids. Make a plan. You no longer have to go to an assigned polling place. You are able to choose the most convenient polling center for your schedule.
Nevada has made it much easier by allowing Nevada voters to choose where they vote regardless of your address or your precinct. In addition, all of the Clark County polling centers have an electronic data system that securely connects to the county registration database to access voter records in real time. The staff on site at the voting centers can process any one registered to vote anywhere in Clark County. These voter sites have maximized convenience of voting for Clark County voters. In fact, there is a voting center within almost a 2-mile radius of any main location within the metropolitan area.
The Voting Process On Election Day
All Clark County election day voting centers use the touchscreen voting machines. The machines used include a voter verified paper print out of each ballet that stays in the machine. You can choose to vote in English, Spanish or Filipino. In case of the need for a recount, all of the paper ballots can be retrieved and re-counted. Although there has been extensive early voter turnout, the early voting results will not be tabulated or available until election day on November 4. The votes will not be tabulated until the Secretary of State has indicated that all statewide voting has ended after 7 PM.
What To Expect On Election Day
When you arrive at your voting site your eligibility and signature will be verified by a poll worker. It is helpful to bring your sample ballot with you to the polling center to allow for easier verification. The election clerk is required by law to announce your name to you privately and your party affiliation to verify. Each of the voting center is equipped with computers that are connected to the election department central voter registration files. Your record will be updated at the time of voting to prevent anyone from voting twice. After the election worker has verified your identity, they will give you a card to activate a voting machine. Once you receive the card, you will be allowed to proceed to the electronic touchscreen voting machine that you are directed to buy a poll worker. There you will insert the card into the machine to activate the machine for your specific precinct. At that time, you will be able to choose the language and proceed with voting. When you have completed your selections, you will give the card to a voting volunteer, and it will be inserted into a box. You will receive an eye voted sticker.
With 125 polling locations in Clark County, voting will be simple and efficient. Even if the line appears somewhat long, they move very quickly. I am very grateful for and would like to thank all of the many volunteers who are working the polls during early voting and on election day for volunteering their time, especially during these pandemic times to make the voting process smooth and efficient. During my trip to early voting, the pole workers were so extraordinarily kind, efficient, professional, and polite to all of the voters who were there to cast their ballot. Please remember that these people are volunteers and without their efforts the election process cannot efficiently move forward.
So, when you head to the polls on November 4, the official election day, remember that these people are subjecting themselves to working with the public during a pandemic so that we can exercise our right to vote. Please use kindness and patience know that your voice matters.
Finding The Closest Voting Center
General Election Early Voting Sites / Mail Ballot Drop-off Locations Saturday, October 22nd to Friday, November 4th, 2022 – All early voting sites are also mail ballot drop-off locations during the listed dates and times in the link below. Any registered voter in Clark County may vote in-person before Election Day at any early voting site instead of voting by mail. You may also drop-off voted mail ballots in-person at any early voting site during the specific dates and times in this schedule. You must still sign the outside of the postage-paid return envelope provided specifically for you, showing your name and address, and seal your voted ballot inside of this envelope before you deposit it in the drop box. Do not put your ballot in another voter's return envelope. If you decide to vote in-person instead of by mail, you will need to do one of the following: If you have your mail ballot, surrender your voted or unvoted mail ballot (preferably in the packet sent to you) to an election official at the voting site. If you do not have your mail ballot, you will sign an affirmation at the voting site swearing that you have not already voted in the current election and that you understand no one may attempt to vote or actually vote more than once in the same election.
Long-term early voting locations are listed in the link below:
https://files.clarkcountynv.gov/clarknv/Election%20Department/2022/EV-Sched-Web-22G.pdf?t=1666363137350&t=1666363137350
You can vote near your work or find a location that is most convenient to stop on the way into work or on the way home. You can also vote at the same election site that you have voted out at in past elections that you are familiar with. It is imperative that you exercise your right to make a choice and chose the voice that will be speaking for you.
Your Vote Counts
In the 2016 election, a little more than a 2% margin divided the vote in the state of Nevada. This election will be historical. It will be decided by a close margin if the predictions are correct. Every vote really does count, and I urge you to exercise your right on election day if you have not voted early. Not only Nevada but several states are anticipated to be extraordinarily close including Florida, Georgia, Ohio, and North Carolina. It is likely that a winner may not be announced on Tuesday night due to the close margins that are anticipated.
On an antidotal note, there have been some historically close elections in the United States for various state offices over the years. For example, in 1994 in the Wyoming House of Representatives, Republican Randall Luthi and independent candidate Larry Call each received 1,941 votes in a state house race in northern Lincoln County Wyoming. On live TV, on NBC's the Today Show, the Secretary of State Kathy Carpenter drew a ping-pong ball with Randall 's name out of the governors rumbled cowboy hat to determine the winner. In 2018 for the Kentucky House of Representatives, in the initial count, incumbent Jim Glenn defeated Republican DJ Johnson by one vote which was confirmed by a re-canvas. Johnson asked for a recount. Jim Glenn was seated in the house on January 8, 2019. A recount was later carried out over the weekend of January 30 and following the recount, Jim Glenn emerged the winner by three votes.
Every vote counts including yours don't waste your right. If you have not voted early get to the polls on November 4. Let your voice be heard!!!!! It is important!!!!!
---
At TheOneLawyer.com, we are here to serve our community and provide expert personal injury legal services in the Henderson and Las Vegas area, and we are grateful for this opportunity. We are a boutique law firm providing experienced and personal representation to injured clients.
We provide professional and personal service to each and every one of our clients on various legal matters and have over 15 years of experience in Nevada insurance law, and in reviewing insurance policies.
If you have a question regarding any type of personal injury or paying your medical bills from an accident, please do not hesitate to contact the offices of TheOneLawyer.com by text 24/7 at (702) 600-0032, or by phone at (702) 450-4868 to speak directly to attorney Laura Marie Payne, Esq., a Henderson personal injury attorney for over 15 years. Laura is recognized as one of Nevada's Top 100 Lawyers. She has the experience and knowledge to obtain the maximum settlement you deserve! Please call our office if you or a loved one is injured. We can make sure that you receive the care you need and deserve and advise on how to preserve evidence!
At our office, we are experienced in helping injured victims get the compensation to which they are entitled. Insurance companies never have the best interest of the injured person at the top of their priorities. They want to pay as little on every claim as possible. Having worked for an insurance company as an attorney for 9 years before opening my boutique law firm specializing in helping injured people, I have reviewed thousands of auto accident claims and policy provisions.
Contact me today - As a former insurance attorney, I have expert knowledge of how insurance companies operate, and I get you the best possible outcome for your case!